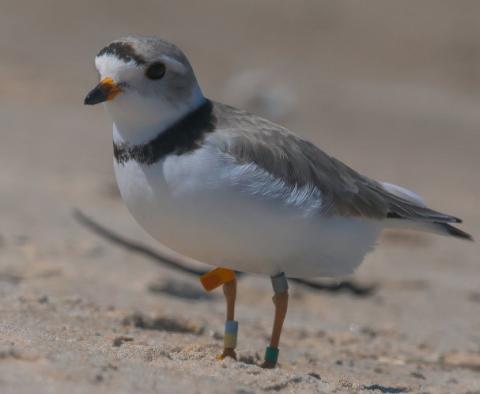 (Tiny, Ontario) Two Piping Plovers named Pepa and Flash are currently nesting in the Township of Tiny. The Piping Plover is a migratory shorebird that is federally and provincially listed as an endangered species. In 2022, five Piping Plover pairs were nested in the Province of Ontario, but currently, the Township of Tiny is the first for 2023, making it crucial that the community respect the nesting area. Based on efforts by volunteers, Federal and Provincial agencies, and support from municipal partners, like the Township, there has been a great success in the recovery of the bird population.
Pepa and Flash are currently nesting at Woodland Beach in the Township of Tiny. A few other Piping Plovers are checking out Wasaga Beach (Area 1), but no official pairs have been established there yet.
The Woodland Beach nest site is identified with fencing and entering the enclosed area is strictly prohibited. During this critical time for the strengthening of the Piping Plover population, it is important that all members of the public respect the enclosed area, and keep people and pets from entering it.
"I encourage everyone in the community to be mindful of the presence of Pepa and Flash and to respect their nesting area," said Mayor David Evans. "The Piping Plover is an endangered species, and the presence of these birds in our community is a great responsibility. Together, we can continue to support the recovery of the bird population and ensure the survival of these beautiful shorebirds."
Interested in volunteering with Birds Canada? The organization is looking for volunteers to assist with monitoring and outreach at the Woodland Beach site. Volunteers will receive training videos that will provide the necessary information about Piping Plovers, conservation efforts, and volunteer duties.
If you are interested in volunteering at Woodland Beach, or to learn more about the program, please contact Sydney Shepherd, Ontario Piping Plover Fieldwork Coordinator.
To learn more about Birds Canada and its conservation efforts visit www.birdscanada.org. 
-30-